Bell Hardware began when Ed & Bea Bell moved to Klamath Falls
to manage and later purchase Southern Oregon Hardware. In those days Bell's Hardware sold
paint, sporting goods, toys, plumbing and electrical products and household goods. The
store was moved to it's current location at 528 Main Street in 1939.
Ed and Bea's son, Rod Bell joined the family business in 1965.
Rod's vision was to expand from a retail hardware store to a supplier of commercial grade
hardware and steel doors and frames. Rod began by cultivating relationships with the major
manufacturers of the hardware industry and he and his employees learned the business from
the bottom.
To complete Rod's vision to become a full service
distributor, Rod learned welding, hired an experienced crew, purchased his first production
building in Klamath Falls and fabrication of hollow metal door and frames began.
Rod's first expansion was to purchase John Warren Hardware on
Riverside Street and it was renamed, Bell Hardware of Medford. The location was moved to
Knutson Street when a custom facility was built in 1990.
Bell Hardware of Eugene was opened in a small strip mall on Bailey
Hill Road. Due to business growth the store relocated several times before moving to a newly
constructed building on Madison Street in 1992.
For years, Rod traveled monthly through Northern California
selling products to contractors and end users. In 1986 he officially established a foothold in the
California market by opening Bell Hardware of Redding.
With a background in marketing and sales Rod's son, John, moved his
family from Seattle back to his hometown of Klamath Falls. John Bell became President of Bell
Hardware with the untimely death of Rod in 2000.
The Central Oregon territory was originally serviced by the
Klamath Falls team. As Bend and its surrounding area started to boom the decision was made to open Bell Hardware of Bend.
To better handle business expansion the hollow metal welding
shop was moved to a much larger facility on Broad Street in Klamath Falls. This facility
underwent a major renovation in 2006 making it a state of the art production facility.
Expansion into the Oregon's largest metropolitan area begins
when Bell Hardware of Portland is opened just off of I-5 at Wilsonville. As with most of the
offices, increased business forced a move to it's current larger facility just blocks from the
original store.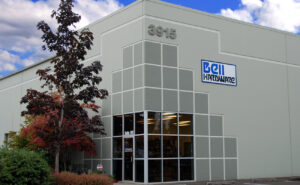 Heading back down I-5 Bell Hardware of Salem opens in our State's capital. Now with locations
in all of Oregon's major cities the Bell Hardware family of stores becomes the premier distributor of commercial doors, frames and hardware in Oregon, Southern Washington and Northern California.
The Bell family of stores becomes a one-stop shop for contractors when Bell Installation was formed. Our installation services provides expert, on-site installation of new doors, frames and hardware, as well as modification of existing doors, frames and hardware. With our Pre-Delivery Installation service we deliver to your jobsite our doors ready to be hung in the framed opening with the hardware pre-installed.
Our vision is continued growth by partnering with our customers and
manufacturers to distribute quality products and excellent service delivered by our hardworking,
loyal and highly valued employees